Bespoke Installations & Maintenance
In addition to our hire and sales departments we also offer a range of complementary services as detailed below.
Sound, Lighting & AV Installations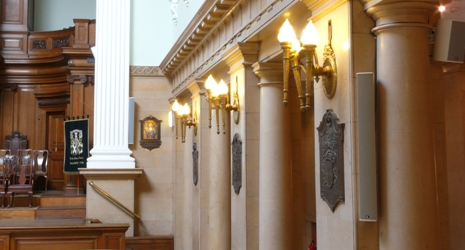 We can offer clients a bespoke design and installation service for a wide range of applications including bars, clubs, theatres, churches, schools, classrooms and boardrooms. Our team's extensive knowledge of lighting, sound and AV equipment is used to help our clients create sound, lighting and AV systems that suit the space and provide high-quality, cost effective technical solutions.
We specialise in audio systems for spaces with difficult acoustics and have access to some very clever products to optimise sound reinforcement in buildings such as places of worship, museums, sports halls and public spaces such as train stations, airports and public buildings.
Complete System Integration can also be achieved using Crestron systems which offer customised control surfaces and touchpanels that enable operation of even complex audio-visual systems by anyone.
To discuss your next project please contact us
Servicing & Maintenance
A well maintained installation will help to reduce problems during operation. Our servicing and maintenance contracts offer our customers peace of mind in knowing that their sound and lighting systems are in good shape and have a defined support agreement if things do go wrong.
Our maintenance contracts can operate at different levels depending on the client's requirements and budget. Contracts can include: Systems inspection and documentation, annual servicing and testing, fault finding and diagnosis, equipment loan and call-out SLA's.
To discuss a new Service Contract please contact us