Outdoor Stages / Festival Stages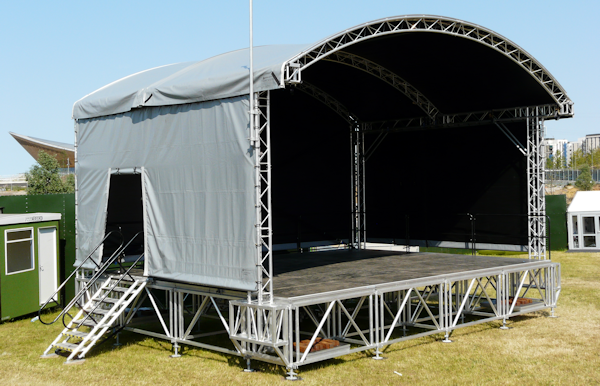 For events such as festivals where an outdoor stage solution is required we have a Prolyte ArcRoof covered stage system. Our outdoor stage measures 8m wide x 6m deep. The stage platform stands approximately 1.2m off the ground and rises to around 5.95m at the apex of the roof. The stage roof is fully structural, allowing a full lighting and/or sound rig to be flown. The festival stage system cam be constructed on any roughly level ground and is self-ballasting in most cases.
Suitable for all outdoor events including music festivals, gala days, product launches, opening ceremonies and special events.
Pricing for the system includes a trained crew to build and dismantle the structure. We also supply a full set of documentation to demonstrate its structural capabilities and will assist the client in ensuring all licensing requirements are met.
We also supply a competitively priced range of sound and lighting packages to complement our stage and offer our customers a one-stop outdoor event solution. Contact our hire and events team for more information and a full quotation.
Description
3 Day
Weekly
Prolyte ArcRoof 8m x 6m Covered Stage System
£ POA
£ POA